AP-111UW Adapter (Cover) Plate With Common Mounting Holes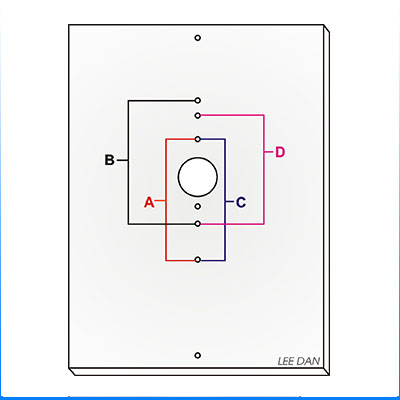 ×
AP-111UW
Adapter (Cover) Plate With Common Mounting Holes 
The AP-111UW adapter plates are designed to assist installers in field installations when upgrading older intercom stations. These oversized steel cover plates will overlap the wall opening of many older, obsolete intercom stations. Newer intercom pushbutton stations, or handsets can then be mounted to the AP-111UW using the variety of mounting holes provided. Custom mounting holes (matching the existing wall holes) can be easily drilled at the job site. If you have precise measurements, LEE DAN will drill extra holes for you for a nominal charge! Save money - installation is quick, easy, attractive, and eliminates the need for plastering and painting over the old hole.
| | |
| --- | --- |
| Specifications | Universal Mounting Holes |
| AP-111UW Size: 8 7/8" x 6 5/8" x 3/16" | A: For 801 Handsets |
| 2 Mounting Holes: 8" on center | B: For IR-200 Series Stations |
| Finish: Powder Coated Steel | C: For TA-205C, TA-205B, 8870, 8870.1, 870-AW Handsets (turn plate upside down) |
| Color: Bright White | D: For TA-205C, TA-205B, & TA-292 Handsets (turn plate upside down) |
| Wiring Hole: 1" hole for wiring | Custuom Holes: Drilled upon request |
Last modification time of the file: February 09 2021 16:35:22.